Fantasy Series:
| | | | |
| --- | --- | --- | --- |
| Blood of the Kindred series | The immortal ælven were forever divided when one clan began a forbidden practice: the drinking of blood. | Immortal Saga | In the 21st century, the ælven continue to fight their foes and former kindred – the vampiric alben – even as they struggle for survival in a world that now belongs to humans. |
Fantasy Novels:
---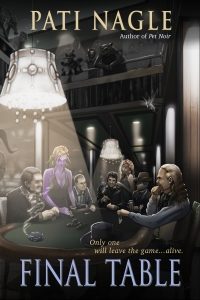 Final Table
ebook $5.99
paperback $16.99
Only one will leave the game…alive.
Wild Bill Hickok, alive again in the graveyard in Deadwood on a cold October night, has an irresistible compulsion to go to Atlantic City. There, in the mysterious and magical Black Queen casino, he joins a rogue's gallery of resurrected scoundrels, all gamblers who were murdered like himself.
Will the father of organized crime revert to his bad habits and attempt to take over the Queen? Will Wild Bill finally find out if those aces and eights are winners? Five murdered men sit down to a poker tournament for the highest possible stakes: the right to stay alive.
(Originally published as Dead Man's Hand)
Buy at your favorite online bookstore!
---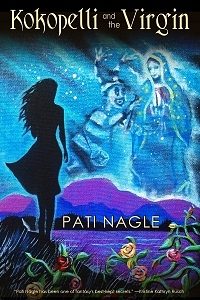 Kokopelli and the Virgin
ebook $5.99
paperback $15.99
A story of miracles and visions, set in the fertile, endangered Rio Grande Valley.
Rosa Marquez and Sean Carpenter have two things in common: they're both native New Mexicans, and they're both seeing visions. Rosa encounters the mythical flute-playing hunchback Kokopelli on a hike in Albuquerque's Petroglyph National Monument. Sean sees the Virgin of Guadalupe in the dry, barren bed of the Santa Fe River.
Both give cryptic messages that lead Rosa and Sean to join a fight to save the dwindling Rio Grande, one of the country's most endangered rivers. It's a fight that leads them to tangle with a powerful developer who doesn't hesitate to play dirty, a fight that puts both of their lives—and their hearts—on the line.
Buy at your favorite online bookstore!
---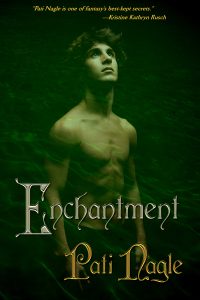 Enchantment
ebook $4.99
Holly's life changes forever when she visits Enchantment Spring.
Her hike through the woods with her older sister Madison ends in disappointment. A concrete coffin full of water? She expected a pool surrounded by flowers, birds, dancing dragonflies. As they get ready to leave, Holly dabbles her fingers in the water.
And sees a face beneath the surface.
The joy of first love fills her, but Holly's happiness turns to horror when she learns that the government plans to demolish Enchantment Spring. Her passion for Ohlan – the beautiful water spirit who inhabits the spring – is so strong that she'll gladly risk her life, standing between the spring and the backhoes, to save him.
Buy at your favorite online bookstore!
---
Science Fiction Novels:
---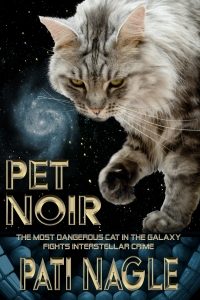 Pet Noir
ebook $4.99
paperback $15.99
Can a lowly gumpaw hope for love with a girl who rides in a jewel-encrusted carrier?
Feline investigator Leon, with opposable thumbs and the ability to talk, is possibly the most dangerous cat in the galaxy. Indentured to the Security department of Gamma Station until the cost of his creation is paid off, Leon alternates between harassing his human partner/roommate Devin and fighting sleazoid criminals, yet still finds time to flirt with the lovely Leila, an exotic Burmese who lives in the swankiest level of the station. Will he win her heart, and more important-will he win his freedom?
Buy at your favorite online bookstore!
---
Short Fiction:
---
Coyote Ugly
and Other Tales
ebook $5.99
paperback $16.99
From the dark depths of the past to the bright hopes of the future, Pati Nagle's stories range across the palette of human emotion.
Named for her Theodore Sturgeon Award Finalist story, Coyote Ugly includes fantasy, science fiction, historical fiction, romance, mystery, and a few surprises. The rhythms, colors, and flavors of New Mexico enrich many of the stories. Curl up with this collection and your favorite hot cuppa, and prepare to escape the ordinary.
Buy at your favorite online bookstore!
---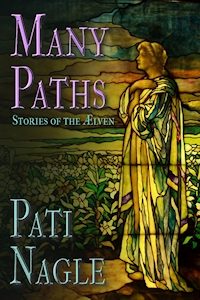 Many Paths
Stories of the Ælven
ebook $4.99
A collection of stories set in the magical world of the immortal ælven: tales of courage, devotion, invention, and love that illuminate and enrich the ælven world introduced in Pati Nagle's Blood of the Kindred fantasy series.
Buy at your favorite online bookstore!
---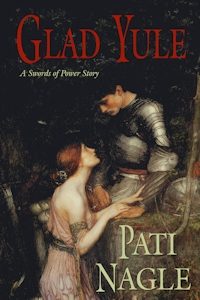 Glad Yule
A Swords of Power story
ebook $2.99
This is a novella (a short novel).
Midwinter, a time of darkness, a time to release past sorrows…
Lord Paethor, young and haunted, accepts a mission from his king: to retrieve the enchanted sword Farslayer – or die in the attempt.
"Glad Yule," a fantasy novella, first appeared in the anthology An Armory of Swords, edited by Fred Saberhagen and set in his Swords of Power universe.
PRAISE FOR "GLAD YULE":
"Nagle's 'Glad Yule' and Walker's 'Stealth and the Lady' would be worthy additions to any anthology."
—Publishers Weekly
Buy at your favorite online bookstore!
---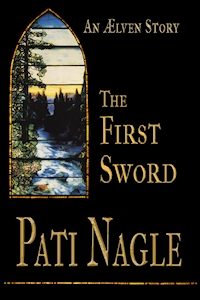 The First Sword
An Ælven Story
ebook $2.99
This is a novella (a short novel).
Fleeing the savages who destroyed his home, an ælven bladesmith must forge a new weapon to destroy the enemies standing between him and freedom.
Wounded and grieving the death of his love, Ghaláran helps another survivor escape the raiders who destroyed their village.
Buy at your favorite online bookstore!
---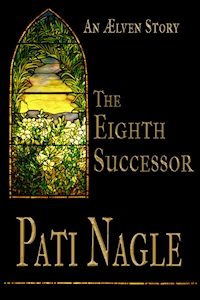 The Eighth Successor
An Ælven Story
ebook $2.99
This is a novella (a short novel).
In the aftermath of battle, the people of Southfæld must cope with devastating losses, including their governor…and seven of his successors.
The Battle of Skyruach is over. Jharan, a captain of the Southfæld Guard, grieves for his friend Maronin as he gathers the remnants of their two companies into one. Encamped on the battlefield, the ælven army prepares to mourn the loss of Southfæld's governor, even as two of the governor's subordinates come seeking Jharan with news that will change his life.
Buy at your favorite online bookstore!
---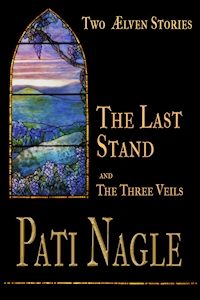 The Last Stand
and "The Three Veils" – Two Ælven Stories
ebook $2.99
This is a pair of short stories.
Felisan, Governor of Alpinon, recalls the battle in which he and Jharan were certain they would be slain.
On their way to Glenhallow, Eliani and her kindred must pass the battlefield at Skyruach, site of the greatest ælven conflict centuries before. As she and her kin listen to her father, Felisan, tell of the battle, she ponders the difficult decisions she must make when they reach the city where Turisan awaits her. Must she accept and use the mindspeech she shares with him?
Buy at your favorite online bookstore!
---