by Pati Nagle
---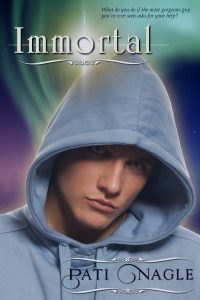 Immortal
(Immortal Saga, Book 1)
ebook $4.99
paperback $15.99
What do you do if the most gorgeous guy you've ever seen asks for your help?
No brainer. Len Whiting is smitten from the minute she sees the stranger's amazing eyes. She agrees to help Caeran find the healer he's been seeking in rural New Mexico. What Len doesn't know is that neither Caeran nor the healer is human: they're immortal ælven, and they're locked in an ancient struggle with the vampires who are their kin. Len wants Caeran's love, and wants to help the healer find a cure―but first they must cope with the bloodthirsty vampire who's got his sights set on them all.
Buy at your favorite online bookstore!
---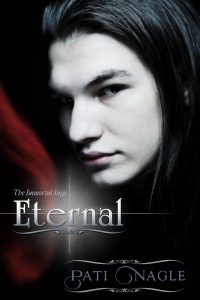 Eternal
(Immortal Saga, Book 2)
ebook $4.99
paperback $15.99
"I never should have let them talk me into giving blood."
When Manda notices a creepy white-haired goth watching her donate blood, her best friend Lenore panics and drags her to a tiny New Mexico village where she learns the horrible truth-
The goth is a vampire…and she's the target.
Hiding out in the village with Len's gorgeous boyfriend, Manda meets several of his kindred, strangely beautiful men who call themselves ælven. She is drawn to Savhoran, who is troubled and recovering from an ominous wound, made by another vampire. Can Manda's heart survive the pain of loving an immortal who may himself be doomed?
Buy at your favorite online bookstore!
---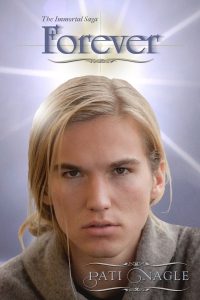 Forever
(Immortal Saga, Book 3)
ebook $5.99
paperback $15.99
The campus killer is back…
…and this time bright, sensitive Steve Harrison finds the mutilated corpse. When he realizes the cops suspect him of the brutal murders, he calls a friend for support and is drawn into a secret world of magic, wonder, and dread. A circle of impossibly beautiful men guards the campus against vicious, inhuman hunters.
Steve's education, his love life, even his survival is at stake once he learns what the police don't know:
The killer is immortal.
Buy at your favorite online bookstore!
---