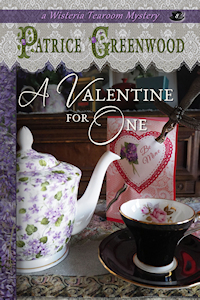 Readers of Patrice Greenwood's popular mystery series will soon have a new title for their collection: A Valentine for One debuts August 10. The ebook may be preordered at various booksellers.
(Wisteria Tearoom Mysteries, Book 8)
ebook $8.99
paperback $18.99
262 pages
Published August 10, 2021
ebook $ 8.99 ISBN: 978-1-952653-05-6
print $18.99 ISBN: 978-1-952653-06-3
262 pages
The death of Gabriel Rhodes on Halloween night sent a shock through the Santa Fe Goth community. Three months later, the fallout continues.
Ellen Rosings is too busy for dead bodies. With a wedding to plan, a move to organize, and business at the Wisteria Tearoom ramping up for Valentine's Day, the last thing she needs is another corpse to deal with. She is far more interested in solving the murder of Captain Dusenberry over a hundred years ago than in finding fresh victims.
Alas, her plans are doomed to disruption. A body appears, and this time not only is it someone she knew…the evidence points to a member of the tearoom's staff.