A Fatal Twist of Lemon
(Wisteria Tearoom Mysteries, Book 1)
ebook $5.99
paperback $16.99
Cops drink coffee.
They don't belong in Ellen Rosings's Victorian tearoom. But when her opening day thank-you tea ends in the murder of the president of the Santa Fe Preservation Trust, the police invade her haven.
Enter Detective Tony Aragon: attractive and unsympathetic, with a chip on his shoulder that goes beyond the murder investigation, and Ellen's delicate bone china cup is full. Is the murderer one of her honored guests, or the ghost rumored to haunt the building? Will Ellen solve the mystery, or will the Wisteria Tearoom's premiere turn out to be its―and Ellen's―finale?
Reviews:
http://booksbylyncote.com/SWBS/book-sale/lyn-reviews-patrices-greenwoods-cozy-fatal-twist-lemon
---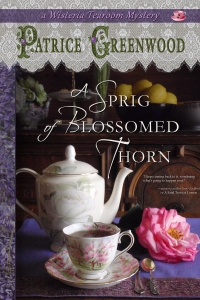 A Sprig of Blossomed Thorn
(Wisteria Tearoom Mysteries, Book 2)
ebook $5.99
paperback $16.99
241 pages
Notorious for failed relationships.
Ellen Rosings knows that's true of cops. Detective Tony Aragon has even said it about himself, or something like it. Despite her misgivings, she is drawn to him, but can he reach past a cop's cynicism to trust her?
As summer surrounds her Wisteria Tearoom in the beauty of a lush rose garden, death overshadows the tearoom a second time. Maria Garcia―a venerable member of the Santa Fe Rose Guild―breathes her last in the tearoom's front parlor, throwing Ellen into a morass of doubt and conjecture. Was it murder, or merely misfortune? Or―as Tony suggests―was it a crime of racial hatred? The more Ellen learns about the inner politics of the Rose Guild, the more she suspects foul play.
---
An Aria of Omens
(Wisteria Tearoom Mysteries, Book 3)
ebook $5.99
paperback $16.99
248 pages
A cop at the opera…
Wisteria Tearoom owner Ellen Rosings coaxes Detective Tony Aragón to go with her to the Santa Fe Opera, but the magnificent performance of Tosca ends in disaster. In bizarre counterpoint to the opera's plot, the leading man is murdered in his dressing room, and Tony must rush to secure the crime scene. Ellen is left to comfort Vi Benning, a former server at the tearoom who is now an apprentice at the Opera and a protégée of the slain singer.
No opera aficionado, Tony turns to Ellen for help navigating the world in which he must now conduct an investigation. At the same time, Ellen is coping with a sudden, mysterious jump in business at the tearoom. Her problems are eclectic:
…Who killed the famous baritone?
…What do the antique letters she's found have to do with the tearoom's resident ghost?
…And will she and Tony ever find time for a normal date?
---
A Bodkin for the Bride
(Wisteria Tearoom Mysteries, Book 4)
ebook $6.99
paperback $16.99
222 pages
Something old, something new, something dead…
It's autumn in Santa Fe, and Ellen Rosings is planning her Aunt Nat's wedding at the Wisteria Tearoom. Her progress is derailed by a dead body—yes, another one—that she finds in her aunt's driveway.
The corpse is an artist Ellen saw that morning selling gem-handled knives at the Tesuque Pueblo Flea Market. The detective assigned to the case—not, alas, the handsome, sympathetic Tony Aragón—is looking to Ellen to explain why the body ended up in Nat's driveway. Tony is busy on his own case and can't help.
Soon the dead artist starts appearing in Ellen's dreams, holding the knife that was found beside him. He wasn't stabbed. What does it mean?
Between the dreams, the looming wedding, work pressures and a tenacious case of hiccups, Ellen fears she's unraveling. Then a gem-handled knife is left embedded in Nat's door, and Ellen knows she must solve the artist's death before another crime strikes closer to home.
"Intelligently written and awash with local color, a feast for dessert and tea lovers everywhere!"
—USA Today bestselling mystery author Edie Claire
---
A Masquerade of Muertos
(Wisteria Tearoom Mysteries, Book 5)
ebook $6.99
paperback $16.99
254 pages
Goths reenacting Poe's "The Masque of the Red Death" on Halloween night…what could possibly go wrong?
Despite her desire to make the Wisteria Tearoom a haven of tranquility, Ellen Rosings can't rid her parlors of the shadow of death. Fascinated with the tearoom's resident ghost, her customers flock to spirit-tours-with-tea, and to crown all, the office manager and her Goth friends plan a Halloween masquerade recreating a classic horror story.
Between his heavy workload and his fits of jealousy when Ellen looks at anything male, Detective Tony Aragón can't offer her much comfort.
Are the flashes of light she's been seeing some kind of message from the spirit world? Or is it just coincidence when a body turns up where she last saw a gleam?
---
Intermezzo: Spirit Matters
(A Wisteria Tearoom Interlude)
ebook $2.99
paperback $10.99
112 pages
After a disastrous Halloween party at the Wisteria Tearoom, Ellen Rosings seeks to draw some understanding out of the chaos.
While trying to support her grieving Goth office manager, Ellen ponders the mysterious flashes of light she saw in another part of Santa Fe, wondering if they are related to Captain Dusenberry, the tearoom's resident ghost. She asks for help from the local spirit-tour guide, Willow Lane, who takes curiosity about the captain's unsolved murder to a new level, where Ellen finds herself exploring the very meaning of spirit.
Will a séance in the tearoom finally provide the answers to her questions?
This is a novella, a short companion story to the Wisteria Tearoom Mysteries series. It is recommended that you read A Masquerade of Muertos (book 5) before reading this story.
---
As Red as Any Blood
(Wisteria Tearoom Mysteries, Book 6)
ebook $6.99
paperback $16.99
250 pages
Yuletide in Santa Fe: biscochitos, farolitos, Las Posadas, music…and murder.
Ellen Rosings does not have time for murder investigations. It's December, and the Wisteria Tearoom is awash in shoppers, cookies, and groups of strange women brought to tea by the eccentric Bird Woman.
Alas, Ellen must cope with murder anyway. One of her high school classmates is stabbed to death, and she and her best friend Gina can't resist the puzzle. Handsome Tony Aragón is on the case, and Ellen is only too happy to assist, but when a second classmate of Ellen's turns up dead, Tony's protective instinct kicks in. Much as Ellen agrees, she can't stay in a cocoon—she's got a business to run.
Is the fact that the victim has recently been to the tearoom merely a coincidence? Could Tony's gratifying concern for Ellen's safety inspire him to become her personal bodyguard? And what on earth should she get him for Christmas?
---
Intermezzo: Family Matters
(A Wisteria Tearoom Interlude)
ebook $2.99
paperback $10.99
117 pages
Between Christmas and New Year's, Ellen Rosings travels a landscape of doubt. Can she and Tony truly forge a permanent relationship, and will their families support or oppose their intention to marry?
This is a novella, a short companion story to the Wisteria Tearoom Mysteries series. It is recommended that you read As Red as Any Blood (book 6) before reading this story.
---
A Black Place and a White Place
Wisteria Tearoom Mysteries, Book 7
ebook $7.99
paperback $17.99
232 pages
When a Texan tourist turns up dead in a lonely arroyo at Ghost Ranch, questions arise that reach back to the Wild West. Murdered by outlaws, or by a lynch mob? Killed for money or for hate?
Finally done with the hectic holidays, Ellen Rosings gets a chance to relax. After catching up on researching the Wisteria Tearoom's resident ghost, Captain Dusenberry, she and sweetheart Tony Aragón plan a long weekend at Ghost Ranch, where artist Georgia O'Keeffe lived and painted the colorful northern New Mexico landscapes.
Hiking, horseback riding, and a tour of O'Keeffe's studio are on the agenda, but finding a body is not. Alas, even the most careful plans are subject to change. When a ranch guest from Texas dies, Ellen and Tony must collaborate to identify the killer—but he suspects Ellen's new friend. Are they headed for a clash?
---
Intermezzo: Household Matters
(A Wisteria Tearoom Interlude)
ebook $2.99
paperback $14.99
133 pages
Is this a good idea, or will it be a catastrophe?
A question Ellen Rosings can apply to multiple areas of her life. Revising the Wisteria Tearoom's inner spaces and advancing her investigation into Captain Dusenberry's murder are only a couple of the stops along the way as Ellen contemplates big life changes ahead. She and Tony are looking for a place where they can live together—but complications arise in the form of an unexpected visitor to the tearoom. Will Ellen lose her heart…again?
This is a novella, a short companion story to the Wisteria Tearoom Mysteries series. It is recommended that you read A Black Place and a White Place (book 7) before reading this story.
---
A Valentine for One
(Wisteria Tearoom Mysteries, Book 8)
ebook $8.99
paperback $18.99
262 pages
Publication Date: August 10, 2021
ebook $ 8.99 ISBN: 978-1-952653-05-6
print $18.99 ISBN: 978-1-952653-06-3
262 pages
The death of Gabriel Rhodes on Halloween night sent a shock through the Santa Fe Goth community. Three months later, the fallout continues.
Ellen Rosings is too busy for dead bodies. With a wedding to plan, a move to organize, and business at the Wisteria Tearoom ramping up for Valentine's Day, the last thing she needs is another corpse to deal with. She is far more interested in solving the murder of Captain Dusenberry over a hundred years ago than in finding fresh victims.
Alas, her plans are doomed to disruption. A body appears, and this time not only is it someone she knew…the evidence points to a member of the tearoom's staff.